Michael Rothbard, IMAC co-founder, dead at 63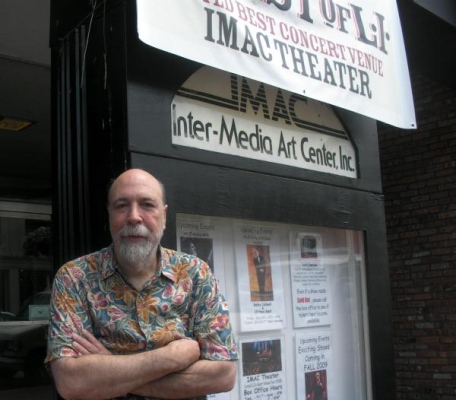 Michael Rothbard, a former child psychologist who became one of Long Island's leading music impresarios, died yesterday morning at Huntington Hospital after a sudden illness. He was 63.
Rothbard was co-founder with his partner, Kathie Bodily, of the Inter-Media Art Center, the Huntington concert hall that closed in June after a quarter-century run in the heart of the village. A funky place, IMAC, which once doubled as a video studio and gallery, was also eccentric and lovable. But it was the music that became synonymous with IMAC - folk, jazz, blues - performed live by artists ranging from Art Blakey to Philip Glass, Herbie Hancock to Tom Paxton, Suzanne Vega to Ani DiFranco, Richie Havens to Dr. John, Phoebe Snow to Keb' Mo'.
In a 1995 interview with Newsday, Rothbard explained why IMAC, which moved around the North Shore for nearly a decade, finally settled in Huntington. "There was already an arts community here that just wouldn't quit - storytellers, poets, painters. I'd never seen anything like it since Woodstock," the loquacious Rothbard said. "It was so energizing."
His career was a long winding road, starting with a stint as a psychologist working with troubled kids in Manhattan, where he met Bodily, then a dental assistant. Their first arts collaboration was a 1970 multimedia festival at Hofstra University.
A grant from the New York State Council for the Arts gave IMAC its start in 1974 as a video production studio in Halesite. Rothbard and Bodily soon moved to Bayville, where IMAC's first live concerts were presented. When the couple returned to Huntington in 1983, they brought their arts center with them, occupying the crumbling Art Deco balcony space of a 1920s vaudeville house on New York Avenue. The new IMAC opened with a sold-out series of avant-garde dance performances, one featuring the Bill T. Jones/Arnie Zane company.
The 600-seat nonprofit center survived, if never quite thriving financially, and even managed to improve the physical conditions of its near-derelict interior. But rising costs, diminishing public financing and the emergence of other performing arts centers across the Island made it tougher to keep the doors open.
Bob Stanford, co-owner of Soundtraks Limited, a CD and DVD shop two doors from IMAC, said Friday, "Michael was an integral part of Huntington. I thought it was a sad day when IMAC closed, but this is a much sadder day."
"Ours was a beautiful and unusual partnership," Bodily said. "This was what we were destined to do."
In addition to Bodily, whom he called his "perfect mate," Rothbard is survived by his sister, Lynn Carr, and niece, Melody. Services are planned for Monday; details will be posted on imactheater.org.